Graduation 2016
---
---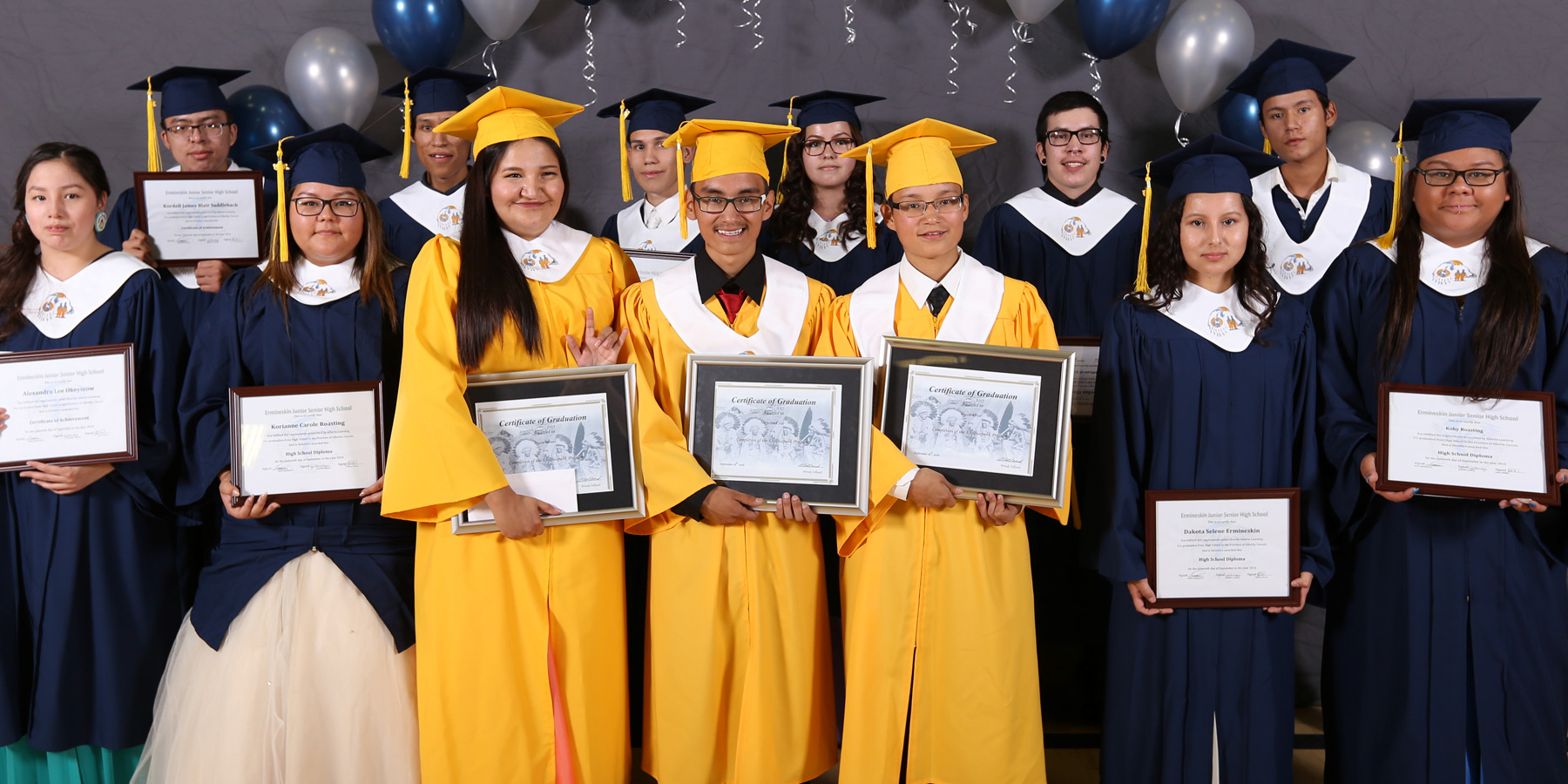 ---
Ermineskin celebrates its high school grads
The students who graduated this fall from Ermineskin Junior Senior High and Ermineskin Ehpewapahk Alternate School are the embodiment of dreams the elders had when they envisioned Aboriginal schools run by an Aboriginal board 25 years ago.
On Sept. 16, 15 students, three from the Alternate School, crossed the stage at Ermineskin Junior Senior High School to receive their diplomas.
"This is one of our most significant celebrations for Miyo Wahkohtown Education," said Brian Wildcat, director of Miyo Wahkohtown Education. "It's a very significant year for us."
Celebrating Miyo Wahkohtown Education's 25th anniversary this year, Wildcat said when the plan to have Aboriginal schools was approved, "we were all learning." While there were many struggles and many obstacles; there has also been growth.
"It's from all of us working together that Miyo Wahkohtown Education was able to achieve success and see good results, just like these kids today. I'm sure they faced their struggles and dealt with adversity and they've been able to work around it to be there today."
David Bombardieri toasted the grads, saying they have accomplished a milestone in two worlds as they are all successful Alberta Education graduates and have strengthened their knowledge of Cree language, culture and customs.
"The dream of the elders is seen in you," he said. "You are a success in the Cree world and by being an Alberta graduate, you've made us all proud to be Maskwacis."
During his toast from the students, graduate Levi Bull said he has overcome the struggles he had in life while attending school by the support he received. Having lost his dad when he was an infant and his mother three years ago, Bull said, "I never saw myself graduating."
While struggling through life, Bull said he realized his future was in finishing school.
"I've studied hard and I'd like to thank my mom for pushing me so hard when she was here," he said. "I also want to thank family and friends for their support and staying with me. Ermineskin Junior Senior High is my second home.
"Graduating means a lot to me and I hope to see more follow in out footsteps."
— CMartesn@postmedia.com